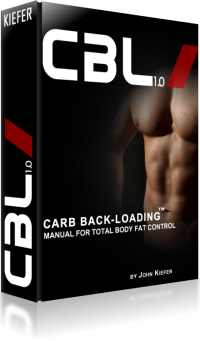 Carb Back-Loading – John Kiefer
(visit product page)
Carb Back-Loading takes advantage of the most advanced and intricate features of human metabolism. To succeed, you must eat the foods you've been told to avoid, like pizza, donuts, pastries, ice cream… Carb Back-Loading requires dessert!
But Carb Back-Loading isn't all about "junk" food. You can eat plenty of the incredible meals you love even if they're not loaded with sugar and creamy-whipped goodness.
Now, with a world of dinner choices available to you, you don't have to worry about your diet when going out with friends, snacking with friends at the game, or eating out at a nice restaurant.
No Assembly Required
Most great nutrition research comes with no indication of how to use it. And most programs telling you what to do come with hardly any basis in science. With Carb Back-Loading, you finally have a scientific system that comes completely assembled. You'll learn HOW it works, but more importantly, you'll get a full-blown handbook of body recomposition that spells out how you can immediately put it to use.
This 300+ page ebook, backed by over 50 pages of references from widely-distributed scientific journals, is nothing less than a full-blown MANUAL for total body recomposition.
Inside you'll find:
Why Carbs are not the Enemy
How to starve fat cells
When to eat carbs to target muscle growth
Precise pre- and post-workout nutrition recommendations
Quick-guide tables that provide macronutrient breakdowns for your whole day
How to make Carb Back-Loading work for ANY training time
Women: Modifications and advice for your specific needs
Supplement recommendations to super-charge your results
Which supplements you DON'T NEED to waste money on
All of the scientific evidence supporting WHY it works, but also…
The ability to skip the science and go straight to the program.
Disclaimer: This page contains affiliate links that may provide monetary compensation to help support the Whole Guidance Vision of Creating a Happy and Healthy Planet should you make a purchase. We very much appreciate and thank you for your support.