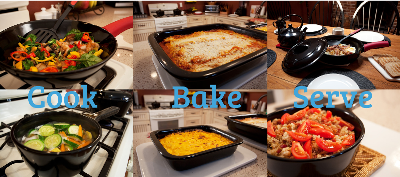 Non-Toxic Cookware
(visit product page)
Safer Preparation. Healthier Eating. Xtrema Cookware.
Even if you spend a lot of time planning and preparing meals for yourself and your family, you may not be getting the most delicious results. Unfortunately, many of today's most popular cooking surfaces not only leach unwanted flavors into your food, they can also be dangerous to your health. Luckily, with ceramic cookware, you can enjoy a versatile cooking experience that gives you healthy, tasty results and easy cleanup to boot.
A Cookware Solution You Can Trust
The inorganic, 100% natural materials in our ceramic cookware means there are no dangerous metals or chemicals leaching toxins into your food and air. Ceramic is naturally durable and non-reactive — it won't change the taste of dishes such as tomato sauce or eggs. This durability also means you can use Xtrema safely under high temperatures and freezing temperatures alike. You can cook a dish under the broiler and put it in the freezer without any problems.