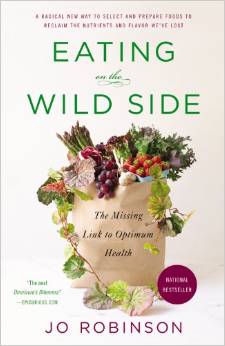 Eating on the Wild Side – Jo Robinson
(Buy from Amazon; Buy from The Book Depository)
The next stage in the food revolution–a radical way to select fruits and vegetables and reclaim the flavor and nutrients we've lost.
Ever since farmers first planted seeds 10,000 years ago, humans have been destroying the nutritional value of their fruits and vegetables. Unwittingly, we've been selecting plants that are high in starch and sugar and low in vitamins, minerals, fiber, and antioxidants for more than 400 generations.
EATING ON THE WILD SIDE reveals the solution–choosing modern varieties that approach the nutritional content of wild plants but that also please the modern palate. Jo Robinson explains that many of these newly identified varieties can be found in supermarkets and farmer's market, and introduces simple, scientifically proven methods of preparation that enhance their flavor and nutrition. Based on years of scientific research and filled with food history and practical advice, EATING ON THE WILD SIDE will forever change the way we think about food.
Disclaimer: This page contains affiliate links that may provide monetary compensation to help support the Whole Guidance Vision of Creating a Happy and Healthy Planet should you make a purchase. We very much appreciate and thank you for your support.