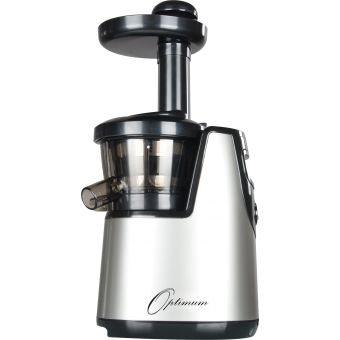 Optimum Slow Juicer
(visit NZ product page)
The Optimum 500 Cold Press Juicer is a heavy duty, efficient, versatile, masticating juicer. It comes in a vertical and highly modern design that makes nutritionally potent and delicious juice in just a few minutes!
The no heat, less friction juicing of the Optimum 500 Juicer is proven to keep more vitamins, minerals and enzymes intact in comparison to high speed convectional juicers. More Living enzymes means that juice created in the Optimum is better for your health and vitality. Not only can you create delicious fruit and vegetable juices the Optimum 500 allows you to create your own preservative free baby food, delicious soy and nut milks, healthy frozen fruit sorbet, tofu and much more.
James Colquhoun & Laurentine ten Bosch Filmmakers "FOOD MATTERS" & "HUNGRY FOR CHANGE" state that: "Vertical cold-pressed masticating juicers are the most superior type of juicer! Cold pressed juicers extract 35% more juice out of your fresh produce meaning real savings from the first day you use it!"
Nutritional tests* (between a cold press and centrifugal juicer) revealed that cold press juicers extract up to 42% more vitamin C, up to 60% more vitamin A and yield between 35 – 50% more juice.
* Test results from Michelson Laboratories,Inc., Korean Food Research Institute (KRFI), and internal labs.
Disclaimer: This page contains affiliate links that may provide monetary compensation to help support the Whole Guidance Vision of Creating a Happy and Healthy Planet should you make a purchase. We very much appreciate and thank you for your support.