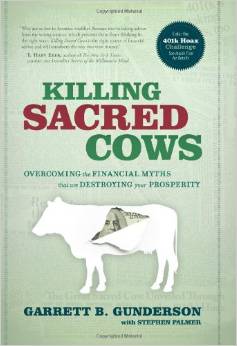 Killing Sacred Cows – Garrett B. Gunderson, Stephen Palmer
(Buy from Amazon; Buy from The Book Depository)
NEW YORK TIMES AND WALL STREET JOURNAL BESTSELLER
Our culture is riddled with destructive myths about money and prosperity that are severely limiting the power, creativity, and financial potential of individuals. In Killing Sacred Cows, Garrett B. Gunderson boldly exposes ingrained fallacies and misguided traditions in the world of personal finance. He presents a revolutionary perspective that can create unprecedented opportunity and wealth for thoughtful, mission-driven individuals.
Our financial lives are intimately connected to our societal contributions, and we must be financially free in order to achieve our fullest potential. Sadly, however, most people are held captive in their financial lives by misinformation, propaganda, and limited knowledge. Through well-reasoned arguments, unflinching logic, and revelatory insight, Gunderson defeats common clichés and faulty retirement planning advice to plainly demonstrate the following and much more:
401(k)s and the stock market are the most risky investments for most people and the gambling mindset they induce creates disastrous consequences.
Conventional retirement planning advice, products, strategies, and techniques expose you to significant danger of being unable to retire, or of running out of money prematurely if you do.
Building net worth is a recipe for creating a life of fear and poverty and how to escape that common trap.
Debt may not be what you think it is and why that matters to your prosperity.
'High risk equals high returns' is destructive dogma and how reducing risk can increase your returns.

Killing Sacred Cows is a must-read for brave individuals willing to question common assumptions and teachings, overcome the herd mentality, break through financial myths, and live a purposeful, passionate, and prosperous life.
Disclaimer: This page contains affiliate links that may provide monetary compensation to help support the Whole Guidance Vision of Creating a Happy and Healthy Planet should you make a purchase. We very much appreciate and thank you for your support.