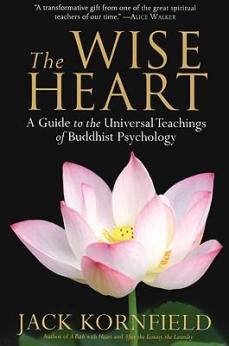 The Wise Heart – Jack Kornfield
(Buy from Amazon; Buy from The Book Depository)
Experience the Transformational Power of Buddhism's Psychology of the Heart with Bestselling Author Jack Kornfield.
You have within you unlimited capacities for extraordinary love, for joy, for communion with life, and for unshakable freedom—and here is how to awaken them. In The Wise Heart, celebrated author and psychologist Jack Kornfield offers the most accessible, comprehensive, and illuminating guide to Buddhist psychology ever published in the West. For meditators and mental health professionals, Buddhists and non-Buddhists alike, here is a vision of radiant human dignity, a journey to the highest expression of human possibility—and a practical path for realizing it in our own lives.
Disclaimer: This page contains affiliate links that may provide monetary compensation to help support the Whole Guidance Vision of Creating a Happy and Healthy Planet should you make a purchase. We very much appreciate and thank you for your support.