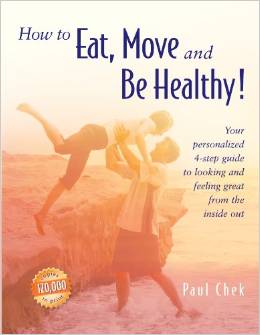 How to Eat, Move and Be Healthy! – Paul Chek
(Buy from Amazon; Buy from The Book Depository)
Your personalized 4-step guide to looking and feeling great from the inside out!
A book for anyone who wants to look and feel their best.
You are unique! The way we respond to food, exercise and stress varies person-to-person just as much as our fingerprints. This book will identify YOUR individual needs and teach you how to address issues that may be preventing you from looking and feeling your best.
Follow this proven four-step program that has helped thousands of people look and feel their best.
Step 1. Fill in the Questionnaires.
Step 2. Develop a Unique Eating Plan for YOU.
Step 3. Build a Personalized Exercise Program that Fits YOUR Needs.
Step 4. Fine-tune a Healthier Lifestyle that Fits YOUR Routine.
Whether you want to lose weight, change your body shape, overcome a health challenge or optimize an already healthy lifestyle, this book will teach you how to achieve all your goals!
This book is not meant to be read from cover to cover! Just as each individual is different, so too, will be the way you read this book. The Questionnaires in Chapter 2 will guide you through the rest of the book, so you can select and read the chapters that are most applicable and interesting to you. In this way, you will create a customized plan of action. This book will show you how to eat and how to move so as to achieve and maintain your optimal level of health and performance.
– Learn how to proportion your meals to achieve your optimal weight.
– Know the truth about fats and oils, animal products and grains
– Choose an exercise program that works for you
– Understand the major impact stress has on your body
– Discover how getting to sleep by 10:30 pm can help improve your health
– Overcome unwanted symptoms such as acne, irritable bowel, acid reflux, bloating, headache, joint pain and many more by eating the right foods and taking care of yourself.
Disclaimer: This page contains affiliate links that may provide monetary compensation to help support the Whole Guidance Vision of Creating a Happy and Healthy Planet should you make a purchase. We very much appreciate and thank you for your support.