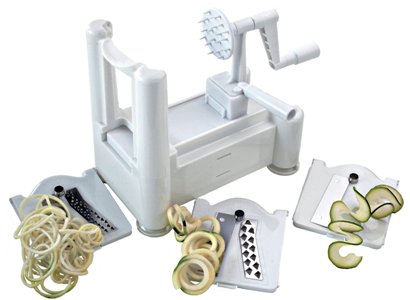 Spiral Vegetable Slicer
(visit product page)
Say goodbye to blood-sugar raising nutrient poor pasta and hello to health stabilising nutrient and fibre rich zoodles, coodles, and other voodles, ie zucchini/courgette/vegetable noodles.
Make quick work of fancy vegetable peeling with the spiral vegetable slicer
Includes 3 sets of blades: 1/8-inch spacing, 1/4-inch spacing, and straight blade for ribbon cuts
Simply place vegetable or fruit on prongs, turn wheel while pushing base toward blade
Disclaimer: This page contains affiliate links that may provide monetary compensation to help support the Whole Guidance Vision of Creating a Happy and Healthy Planet should you make a purchase. We very much appreciate and thank you for your support.