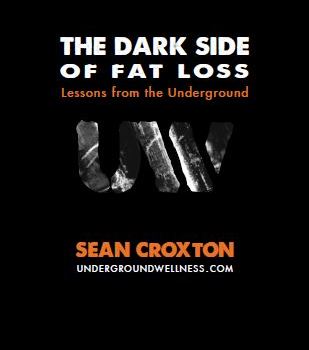 The Dark Side of Fat Loss – Sean Croxton
(visit product page)
If "Fat Loss" is so simple, then why is everyone still fat?
Recent studies show that 95% of dieters regain the weight they lost and more often than not end up heavier than when they started. What do the 5% who lose weight and keep it off know that the others don't?
Find the answer in this book and a whole lot more including:
Chapter 1: Hold No Myths To Be True
In Chapter 1, you'll learn about the incorrect "Calories in, Calories Out" paradigm, and why diet and exercise alone will NOT achieve your fat loss goals. You'll learn how to completely avoid "battling the scale" and how the common mainstream solutions we attempt to use for fat loss not only defy reality & science, but also the laws of common sense.
Chapter 2: It's All About The Hormones
In this chapter, you'll learn the most important hormones for fat loss, and how they interact with each other and your body. By the time you've finished this chapter, you'll have a strong understanding of how your hormones work, and how to manage them so that you can lose fat. You'll also learn about the IGNORED master hormone and how to control it to keep your body a fat burning furnace, and not just plain old fat.
Chapter 3: Just Do What Healthy People Do
In this chapter, you'll learn what true health REALLY is, and how to model your health after others who are truly healthy. By the end of this chapter, you'll know how you can truly be free of the signs and symptoms of chronic, degenerative diseases while burning fat at the same time.
Chapter 4: Just Eat Real Food
In this chapter, you'll learn what "real food" really is, and how to easily navigate through our confusing and often misleading modern food labeling system. You'll learn the differences between grass fed, free range, conventional, organic, and natural food labels, and what they all mean. You'll also learn about the wheel of life – and why you can NOT get healthy eating sick animals.
Chapter 5: The JERF30 Program
The JERF30 Program is a system of choosing real foods and listening to the signals your body gives you. Most diet programs think that everybody is the same. The JERF30 program does not make that assumption. Instead, you'll learn how to listen to your body and know which foods are the healthiest and provide the biggest health benefits specifically for you. The 30 day Just Eat Real Food challenge provides you with a list of foods to choose from, as well as a system for translating your body's messages into actionable information so that you can find the diet that is right for you.
Chapter 6: Reduce Stress
Is stress making you fat? In this chapter, you'll learn the 5 sources of stress on the body, and how to mitigate them and how to lower stress in your life. The average American is incredibly stressed out, and this produces some pretty severe negative effects on your body – including increased fat storage, anxiety, and depression – all of which you will learn how to prevent in this chapter.
Chapter 7: Go To Bed
Is your lack of sleep killing you? Most Americans are dramatically sleep-deprived and just "live with it" – but did you know that just one night of missed sleep is sufficient to make you as insulin resistant as a diabetic? And, the center for disease control recently classified all-nighters as carcinogens? So lack of sleep will make you diabetic, cancerous, and inevitably, lead to an early death. In this chapter, you'll learn how the advent of the light bulb has tricked your body into thinking it's into a perpetual state of summer, and makes it constantly prepare for a winter famine by shifting your hormones to crave sugar and make your body store fat. By the end of this chapter, you'll learn how to prevent this from happening and how to make sure your body is burning fat all year round.
Chapter 8: Heal Your Gut
Did you know that Americans spend over $1,300,000 a day just to poop? And that 1/3rd to ½ of all adult Americans have one or more digestive challenges? In this chapter, you'll learn what these digestive challenges are, and how to overcome them without compromising your everyday life. You'll learn about parasites, leaky gut, gluten sensitivities, and other important digestive issues that you need to be aware of if you want to have a fully functioning digestive system. If your digestive system is dysfunctional – then weight loss is nearly impossible – so this chapter is an essential read in your fat loss journey.
Chapter 9: Reduce Your Toxic Load
Did you know that we use 9 personal care products daily that contain around 126 chemical ingredients, and that 1/3rd of these ingredients have been identified as causing cancer or other serious health problems? In this chapter, you'll learn about obesegens – chemicals that interfere with the normal function of the hormonal system and have been shown by research to cause weight gain. These are the very same obesegens that you're likely rubbing all over your body every day, inhaling from toxic cleaning products, and drinking in non-filtered water. This chapter will show you how to identify, remove, and replace common toxins in your immediate environment, so that you can lower your toxic load and lose fat more easily.
Chapter 10: Get Your Mind Right
All of the information in this book is great, but if you don't have the mindset to take action, then you're wasting your own time. In this chapter, you'll learn the 6 keys to a successful lifestyle change, and how you can emulate others' success in revamping their health and overall well being.
Disclaimer: This page contains affiliate links that may provide monetary compensation to help support the Whole Guidance Vision of Creating a Happy and Healthy Planet should you make a purchase. We very much appreciate and thank you for your support.