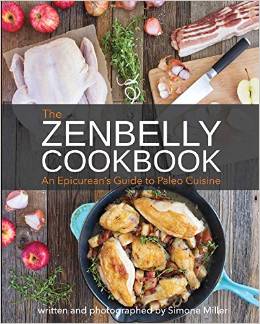 The Zenbelly Cookbook  – Simone Miller
(Buy from Amazon; Buy from The Book Depository)
The Zenbelly Cookbook bridges the gap between the Paleo template and gourmet cuisine.
With a focus on quality ingredients, technique, and balancing flavors, this book will take the reader on a journey that will leave any feeling of restriction behind. With over 100 real food recipes, The Zenbelly Cookbook covers every course and occasion; from simple weeknight meals that can be made for the family in under 30 minutes, to elegant multiple course dinners that will impress any guest. The Zenbelly Cookbook will also offer entertainment tips such as: what can be made ahead, shortcuts that don't sacrifice quality, and menu suggestions. The goal of The Zenbelly Cookbook is to make incredible, professional quality food accessible to the home cook. Each recipe has a beautiful image of the ingredients laid out, which helps the reader easily see the "before and after". Written with the novice home cook in mind, it includes foolproof instructions. However, the flavor combinations and creativity of the book make it a great choice for the more seasoned cook, as well.
Disclaimer: This page contains affiliate links that may provide monetary compensation to help support the Whole Guidance Vision of Creating a Happy and Healthy Planet should you make a purchase. We very much appreciate and thank you for your support.